Over the past year, we unfortunately had to kiss our fancy dinner parties goodbye and say hello to more intimate casual dining. However, a return to at-home dinner parties might be on the horizon for some. Below are some sophisticated and stylish dining room options for when you're prepping for guests and need inspiration.
Eclectic & Elegant
Designer: Jennifer Jean Morris of JMorris Design
Location: Brooklyn, New York
Even family dining rooms can be glamorous and comfortable. A chic and elegant light pendant over a rich resin dining top make for a perfect pair. A vinyl go is a classic goto under dining table rug. The secret to cleanable and cozy.
Dark Art Deco-inspired wallpaper above tall white wainscoting. "It looks cool and modern in daylight, but with the lights dimmed down it can be more dramatic and sexy," Morris says. "The gold touches are restrained in the paper, in the beautiful light fixture and in the fireplace floor tile."
Coastal Classic
Designers: Julie Schulte and Kendall Schulte Hannon of Schulte Design
General contractor:Aria Homes
Location: Ponte Vedra Beach, Florida
 "The ceiling was originally dark-stained wood, and we knew for our overall vision of the space we needed to lighten it up in color and feel so we started from scratch," Schulte Hannon says. "We removed the old tongue-and-groove ceiling and put up pecky cypress for a more casual and coastal feel and stained it with a light gray wash to keep the natural tones of the wood."
Travertine flooring. Rattan side chairs. Skirted host chairs. Custom drapes in patterned fabric. "We wanted a palette on the ceiling that would highlight the custom Ro Sham Beaux fixtures we have over the dining table," Schulte Hannon says. "Along with the builder and trim carpenter we created the perfect beam layout to anchor these gorgeous chandeliers."
Beautifully Bold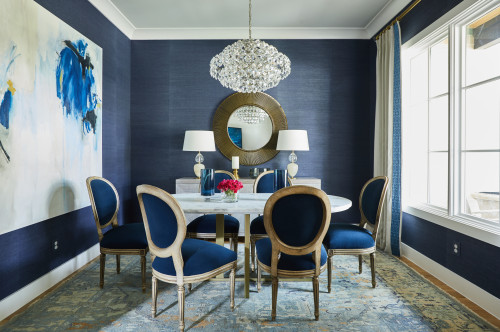 "A bold mix of formal and modern styles with durable finishes and fabrics helped us grant these client wishes," says designer Terra McNutt. "The jumping-off point of this project was the gorgeous crystal chandelier," McNutt says. "The wife fell in love at first sight and everything surrounding this was all about balance of traditional and modern design."
 Dark blue grasscloth wall covering. White trim (Snowbound by Sherwin-Williams). Custom oval-back chairs with performance fabric velvet. Marble dining table with gold-finish base. Custom drapes. Mixing styles is the best solution when couples aren't always seeing eye to eye!
 Classic with a pop of color
Designer: Vani Sayeed Studios
Location: Lexington, Massachusetts 
"They like warm woods and texture so we gave them a palette that was timeless yet classic in design and decor," says designer Vani Sayeed, whose client found her on Houzz. Oval dining table that seats eight people. Crystal beaded chandelier. Upholstered host chairs in ikat patterned fabric in soft red, cream and teal (the side chair seats feature the same fabric).
Metallic-based grasscloth wallpaper with a hint of teal wraps the walls. "It catches the light ever so subtly," Sayeed says. 
Designer tip. "Not everything has to match exactly," Sayeed says. 'All the colors and finishes in this space have a similar feel but don't exactly match; they have varying tonal values. The idea is to create interesting layers with color, texture, scale and visual lines. If everything matched exactly the room would be flat. The subtle nuances are what creates visual interest in the room."