It's never too late to give your home a mini makeover that are guaranteed show stoppers! Take a look at these stylish new trends that are popping up all around in homes this year.
Kitchen Style
Photo by EYDER curated kitchens – Browse kitchen photos
One kitchen style that keeps showing up is a custom look with a collected-over-time feel. This style usually features a mix of grays, creams and light woods with dark, moody accents for a soothing yet refined palette. A mix of textures, materials, cabinet styles and architectural details makes the style feel as if it was pieced together bit by bit over the years. The Maine kitchen shown here by designer Tina Rodda of Eyder Curated Kitchens is a good example. 
Light Wooden Details
This Southern California kitchen by Denise Morrison Interiors & House of Morrison is another good example. A black steel-and-glass cabinet tower looks added on to the custom white oak cabinets at a different time. With the marble backsplash, and custom blue bar stool chairs this kitchen is captivating and time transforming.
Many people found that light wood mixed with other neutrals like whites and grays is a great way to create an airy palette with a dash of warmth. This is especially effective in a kitchen, as designer Nate Fischer's own Southern California kitchen illustrates here. "Using wood instead of white on the cabinets let me bring in white tones with other materials in the room without it feeling too white," Fischer says. 
Backsplash
These handmade square tiles in a glossy finish, known as zellige tile, like are beginning to pop up everywhere like those seen in this New York kitchen by Arielle Mizrahi Design. The glossy finish and handmade look offer color variations, shimmer and subtle imperfections that give the simple shape tons of character.
Here, yellow square tiles in a crackle glaze finish bring a sunny punch to a kitchen by Landed Interiors & Homes.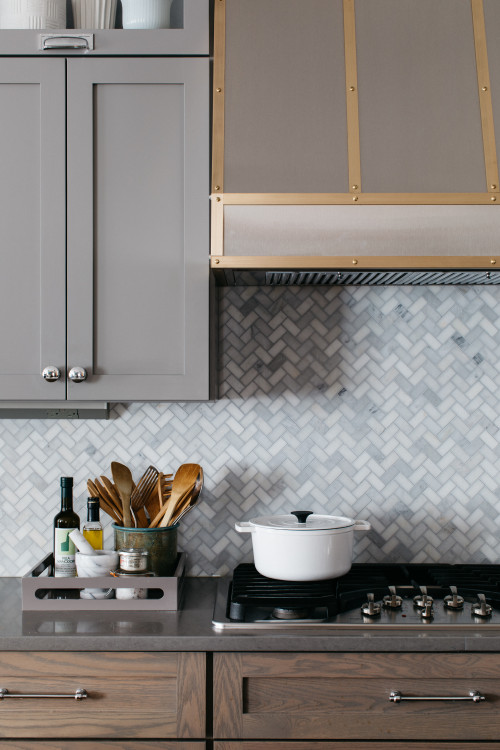 Photo by Honsen + Flemming Interiors – Browse kitchen photos
If you're looking for something with more movement in a backsplash, consider small tiles set in a herringbone or chevron pattern. Carrara marble tile in a herringbone pattern makes for an elegant backsplash in this Chicago kitchen by Honsen + Flemming Interiors.
You can play around with the size of the pieces and the shapes and patterns to create varying effects.
These are just a few of the many jaw dropping kitchen trends we have started to see hit the markets. Dive in with a designer and give your home the kitchen you deserve!